As the company celebrates its 60th anniversary, April 12 marks the 100th birthday of its founder, Dr. Louis Berger.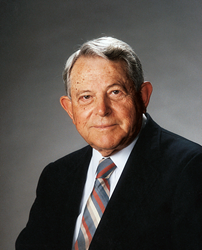 Morristown, N.J. (PRWEB) April 12, 2014
As the company celebrates its 60th anniversary, April 12 marks the 100th birthday of its founder, Dr. Louis Berger. Today, the company founded by Dr. Berger has continued his legacy to become one of the worlds most technically and geographically diverse engineering firms.
Known to his friends and colleagues as Doc, Dr. Berger was a visionary who not only demanded technical excellence, but also recognized the importance of combining state-of-the-art engineering practices with the local training required to further develop and maintain infrastructure systems in developing countries. This approach to business became the hallmark of Louis Bergers practice and helped to pioneer the concept of capacity building.
My fathers vision as an engineer was to improve lives by developing an understanding of the communities in which he worked, and then providing the best solutions by implementing them on site in partnership with local professionals, said Fredric S. Berger, P.E., chairman of The Louis Berger Group and Dr. Bergers son. In his words, Doing good engineering is not enough; we need to eliminate the need for us to perform the same thing a second time. Celebrating his 100th birthday allows us to remember his leadership, inspiration and passion.
Born in 1914, Dr. Berger lived modestly with his parents and four siblings in Lawrence, Mass., where his father had a small glazing business. However, his modest beginnings were in sharp contrast to his professional achievements. After receiving bachelors, masters and doctorate degrees, Dr. Berger founded Berger Associates, Inc., in 1953, a twelve-employee consulting firm in Harrisburg, Pa., that would become a billion-dollar global enterprise.
In addition to his professional successes, Dr. Berger was an avid supporter of education. He gave generously to several educational institutions and was a lifelong academic and dedicated teacher. Louis Berger has continued this commitment to education throughout the years, with dozens of corporate-sponsored fellowships supporting undergraduate and graduate student education at: Northwestern University; New Jersey Institute of Technology; Massachusetts Institute of Technology; Tufts University; Rutgers, The State University of New Jersey; the University of Panama; American University of Afghanistan; and Kabul Polytechnic University.
Dr. Berger passed away in August 1996. To read more about his life, click here and click here for New York Times coverage. To read more about Louis Bergers 60-year history, click here.
About Berger Group Holdings, Inc.

Berger Group Holdings, Inc., a top 20 Engineering News-Record firm headquartered in Morristown, N.J., with offices in Washington, D.C., and a number of other cities within the United States and worldwide, is a multidisciplinary architecture, engineering, planning and environmental consulting firm. With more than 6,000 architects, planners, engineers, construction and program managers, economists and environmental scientists, the Berger Group has worked on hundreds of thousands of miles of highway, thousands of miles of railroad and bridges as well as numerous airfields, seaports, buildings, dams, water supply systems and other infrastructure across the United States and in more than 140 countries. By utilizing its vast global capabilities and local responsiveness, the Berger Group is dedicated to providing solutions for a better world.
Random LinkMedia Partner Link with respect to Betvictor –
Betvictor